LUA LifeCare Charity Run 2019

Latest News

Rescheduling of LUA LifeCare Charity Run 2019:
We sincerely thank all the great support and patience from all runners to the LUA LifeCare Charity Run 2019. After communicated with all related parties and careful examination of the feasibility of different arrangements, we decided to reschedule LUA LifeCare Charity Run 2019 no later than May 2020, with the same venue and race categories, exact date to be announced later. Please keep your runner bib for joining the rescheduled event. For those who may not be able to attend due to the new schedule, within a certain application period and with an administration fee of HK$100, we will help you transfer your running quota to another participant. Application details will be announced on event website later. Let's Run with Love & Care, see you!
E-runner guide is ready for download here

Please continue to support by making a donation

Background

Co-organized by The Life Underwriters Association of Hong Kong (LUAHK) and The LUA Foundation (LUAF), the 4th LUA LifeCare Charity Run will be held on October 7, 2019 at Chung Yeung Festival. Enrollment fee and fund raised, without cost deduction, will be donated to charitable organizations. This year, LUAF confirms to donate no less than HK$100,000 each to two beneficiary organizations, Hong Kong Transplant Sports Association (HKTSA) and Hong Kong Blind Sports Federation (HKBSF) by the fund raised. With the formation of LUA Community Service Department and LUA Volunteer Team this year, the LUA LifeCare Charity Run 2019 will promote volunteer services in the industry with the theme of "Volunteering and Sharing". With the mission of promoting life education to the public, we will also convey the message of living your life with love and bring together the power of life affecting life.
Event Information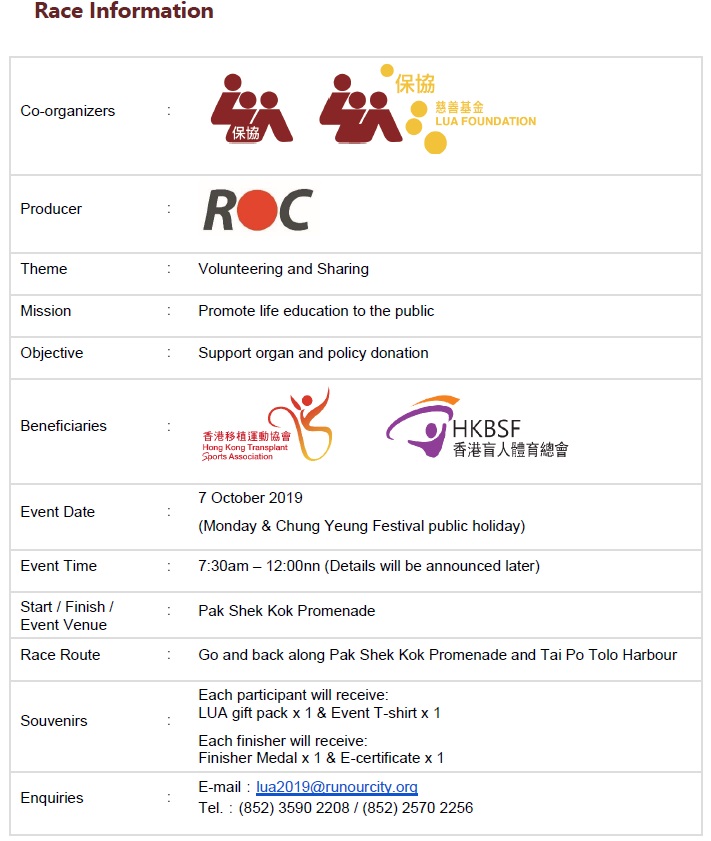 Route Map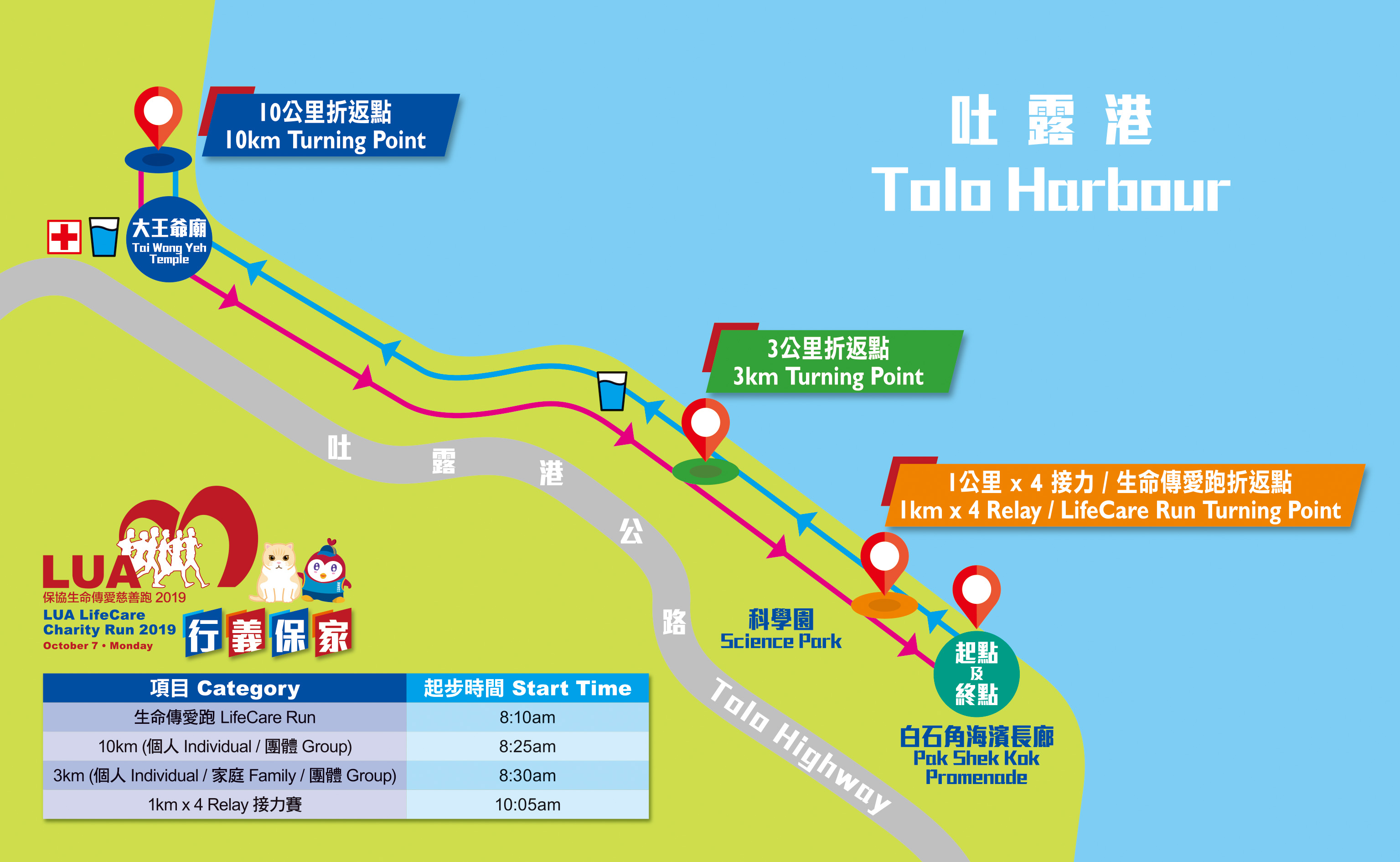 Race Category and Enrollment Fee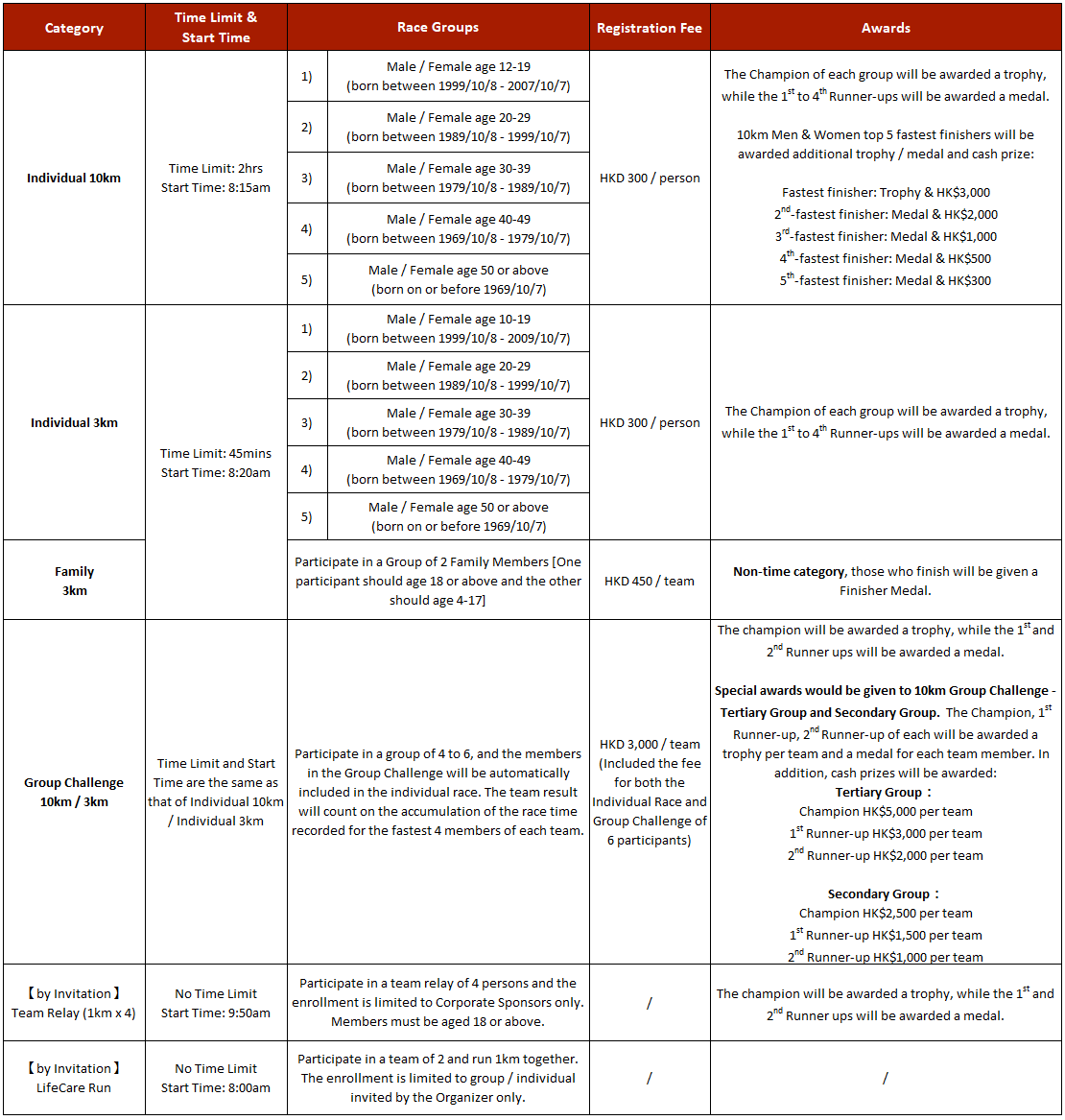 Runner's Pack
Race T-shirt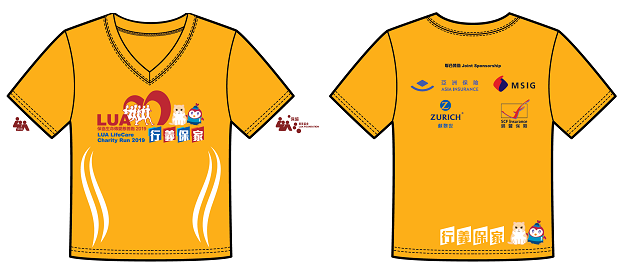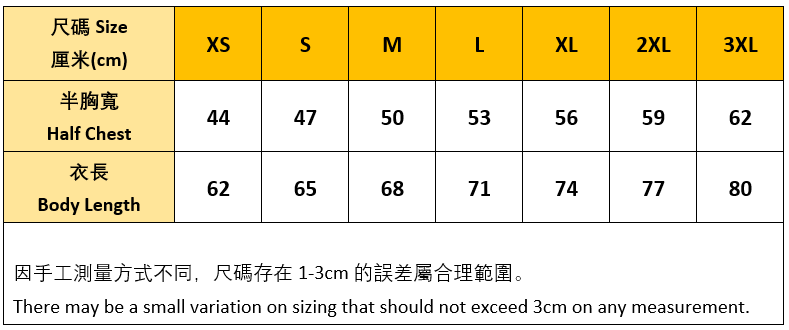 Race BIB
Race drawstring bag
Race water bottle
Multi-functional headwear

Visor
Nightingale Syringe Pen
Tong Tai Chung Massage Balm (2g Trial)
Eagle Medicated Oil (3ml Trial)
Salonpas Patch
Finisher's Medal (only for those who finished the race)
*Image is for reference only, final product may be different slightly.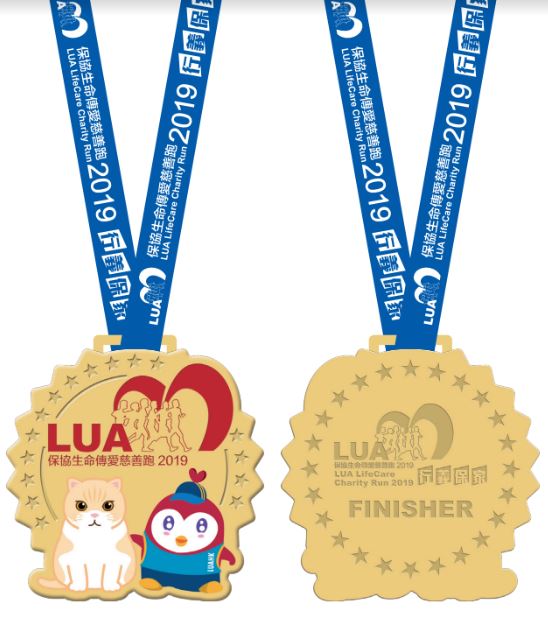 Important Notes on Enrollment
● Participants must study the Event Details and Rules & Regulations carefully. Once the participant enrolled in the event, it is assumed the participants agreed to abide by the Rules & Regulations and Terms & Conditions of the race.
● Registrants must fill in the required fields with correct information on the enrollment form. Participants will be assigned to their respective age group based on their date of birth. If any awardee is found their date of birth filled on the form is not identical to their ID document, his / her award will be forfeited. (Age is counted based on event day, e.g. if a male participant was born on 7 October 1997, his age will be 22 on event day, and his age group category should be Men's 20-29)
● Participants may modify their personal information by logging in their personal registration page (there is a link on the confirmation email) by 6pm, 31 August, 2019. No changes will be allowed after this deadline. Please note some items are unchangeable such as Name, Date of Birth, Donation Amount.
● All submitted enrollment fee and donations are not refundable under whatever circumstances.

● Participants are liable for their own insurance protection.
● The Organizer reserves the right to amend the event arrangement and terms and condition without prior notice.
● For all the Enrollment Fees accepted by the Organizer of the "LUA LifeCare Charity Run 2019" may request for official receipt issued by LUA Foundation Ltd, while Donation of HKD $100 or more are tax-deductible and the receipt will be issued by LUA Foundation Ltd.
● The event arrangement and the acceptance of enrollment and sponsorship are subject to the final decision of the organizer. For any disputes that may arise, the decisions of the organizer are final.
● For full version of event terms & conditions please click here
Co-organizers
LUA
Inaugurated in 1973, the Life Underwriters Association of Hong Kong Ltd. (LUAHK) is a voluntary organization of professional insurance intermediaries destined for professional development of the insurance services for the community of Hong Kong. Today we have over 13,000 members and are the greatest organization of insurance intermediaries in Hong Kong. The aim of the association is to enhance and uphold the professional and ethics standard of the life insurance practitioners through the enactment of code of conducts and ethics for its members, education programs and active participation in the policy making for the development of the industry. Besides, the association also enthusiastically encourages members to get involved in public welfare so as to contribute to the society.
LUAF
The LUA Foundation Limited is a non-profit organization set up by the Life Underwriters Association of Hong Kong Limited in 1998, aiming to encourage volunteer work among members and to provide funding for charitable organizations and worthy causes throughout the world. Initially funded by an endowment from the LUAHK, all foundation activities will reflect the caring and sharing spirit of LUAHK members as well as their commitment towards the life insurance profession and the community. Beneficiaries include: UNICEF, World Vision, Haven of Hope Hospital and Society for the Promotion of Hospice Care, etc.
You may refer to below website for donation made by LUAF in recent years:
http://www.luahk.org/index.php?option=com_content&view=article&id=90&Itemid=185&lang=en
Beneficiaries
Hong Kong Transplant Sports Association
Hong Kong Transplant Sports Association (HKTSA) is a registered non-profit organization in Hong Kong. Its members are organ transplant recipients, living organ donors and deceased donor families. HKTSA is supported strongly by our dedicated health care professionals. The mission of HKTSA is to encourage and promote full rehabilitation of organ transplant recipients through sports training and competitions thus to develop their potential, and to establish a positive and optimistic altitude towards their new life.
Since the establishment of HKTSA in 2008, we have organized various sport activities to enhance the physical and mental rehabilitation of the transplantees. Our transplant athletes did achieve excellent results in the World Transplant Games and Chinese Transplant Games. Through their achievements, we are able to show to the general public the benefit of organ transplant so to raise the awareness of the importance of organ donation.

Support Organ Donation to save life !
The Hong Kong Blind Sports Federation
The Hong Kong Blind Sports Federation (HKBSF) was established in April 2008. It is the first and only blind sports association in Hong Kong with over 600 members.
The main objectives are: 1) to provide regular general sports training programme to the visually impaired people of Hong Kong; 2) to select visually impaired athletes to take part in or to organize local/regional/international blind sports tournaments; 3) to select potential visually impaired athletes for elite athletes training with an aim to represent Hong Kong to take part in Asian and Olympic Paralympic Games; 4) to provide basic and advanced training for coaches and referees in different blind sport disciplines.
Donation
The LUA Foundation Limited
Donation Methods & Important Notes
To compete for the "Highest Donation Award",all the completed Donation Form(s) and Payment(s) must be submitted via "LUALifeCare Charity Run 2019" website or reach the LUAHK office by September 20, 2019. Donations submitted after the deadline will be accepted but will not be counted to the "Highest Donation Award".
1. By Cheque (Cheque Payable "LUA Foundation Ltd"):
○ Race Participant / the representative should collect all the donation form(s) and payment(s) from donors
○ A SINGLE crossed cheque including the total sum of donations (payable to "LUA Foundation Ltd") should be submitted with each donation form.
○ Please send the copy of the Donation Form,together with a Crossed Cheque to LUAHK office
[Address: Units A-D, 23/F, Seabright Plaza, 9-23 Shell Street, NorthPoint, HK.
(Envelop cover please state: LUA LifeCare Charity Run 2019 Donation)]
2. Online Donation
○ Complete the donation via our "LUA LifeCare Charity Run 2019" online payment system, (Select: "Donation to LUA Foundation") and mark down the "Transaction Date" and "Transaction Code" for your record once the payment completed.
Donation Receipt:
● Donations of HKD $100 or more are tax-deductible and the receipt will be issued in according to the Name of Donors stated in the Donation Form or submitted via online payment system. Once the donation form is submitted, any request of alteration of receipt information will not be served.
● The receipts will be sent to the contact representative stated in the reply slip for distribution.
● Official donation receipts will be issued within 3 months after the event (Tax exemption no.: 91/5473).
Care Ambassador

Cream Brother is a cat living in a convenience store in Tsim Sha Tsui East, and has become a famous cat in Hong Kong because of an accident lost. Afterwards, Cream Brother participated in a number of charitable activities and set up the "Cream Brother Foundation" to help volunteers and charities to save stray animals and promote the concept of adoption instead of purchasing. Cream Brother is the first cat in Hong Kong interviewed by CNN and has become an international cat celebrity.
Cream Bro Foundation
The Cream Bro Foundation was formally established as a non-profit charitable organizationin December 2013 and is granted tax exemption under section 88 of the InlandRevenue Ordinance. The Foundation is committed to promoting the concept of kindness to animals,helping volunteer groups and independent volunteers to save the stray animals and encouraging adoption of animals instead of buying a pet in order to alleviate the increasingly serious problems of abandoned animals nowadays. With the spirit of spreading love, it is hoped that the underprivileged can bebenefited in the future.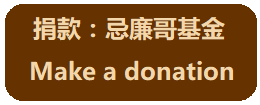 Adverse Weather Arrangement
● If Typhoon Signal No.8 or above is hoisted at any time from 12:00 noon on the day before race, the race will be cancelled.
● If Typhoon Signal No. 8 or above, Red Rain or Black Rain signal is hoisted at any time from midnight 00:00am on race day, the race will be cancelled.
● If the above Inclement Weather/Condition Warnings be hoisted after the commencement of race, the Race Director has the right to change the race distance or race arrangement or to stop the race. No refund or no rescheduled will be made.
● No fallback date for the race. All paid fees will not be refunded.
● Please check the race day weather from the Hong Kong Observatory (Tel: 1878200).
● Shall there be any special arrangement regarding to any sudden weather changes, announcment will be made on this website and on RunOurCity's Facebook fan page.